The common product shared between circuses and amusement and theme parks is creating and providing entertainment for the public's enjoyment. Circuses can take place in a large temporary tent equipped with bleachers or in permanent buildings. Attending a circus is a passive activity in which the customer views the various animal, clown and acrobatic acts from a seated position. Amusement and theme parks, on the other hand, are locations where customers actively walk around the park and can participate in a wide variety of activities. Amusement parks can have many different types of rides, exhibits, games of skill, sales booths and stores, grandstand shows and other types of entertainment. Theme parks have exhibits, buildings and even small villages that illustrate the particular theme. Costume characters, who are actors dressed in costumes illustrating the theme—for example, historical costumes in historic villages or cartoon costumes for parks with a cartoon theme—will participate in shows or walk around among the visiting crowds. Local country fairs are another type of event where activities can include rides, animal and other side shows, such as fire-eating, and agricultural and farm animal exhibitions and competitions. The size of the operation can be as small as one person running a pony cart ride in a parking lot, or as large as a major theme park employing thousands. The larger the operation, the more background services that can be present, including parking lots, sanitation facilities, security and other emergency services and even hotels.
Occupations vary widely as do the levels of skills required for individual tasks. People employed in these activities include ticket sellers, acrobatic performers, animal handlers, food service workers, engineers, costume characters and ride operators, among a long list of other workers. The occupational safety and health risks include many of those found in general industry and others that are unique to circuses and amusement and theme park operations. The following information provides a review of entertainment-related hazards and precautions found within this segment of the industry.
Acrobatics and Stunts
Circuses, in particular, have many acrobatic and stunt acts, including high-wire tightrope walking and other aerial acts, gymnastic acts, fire-juggling acts and displays of horsemanship. Amusement and theme parks can also have similar activities. Hazards include falls, misjudged clearances, improperly inspected equipment and physical fatigue due to multiple daily shows. Typical accidents involve muscular, tendon and skeletal injuries.
Precautions include the following: Performers should receive comprehensive physical conditioning, proper rest and a good diet, and show schedules should be rotated. All equipment, props, rigging, safety devices and blocking should be carefully reviewed before each performance. Show personnel should not perform when they are ill, injured or taking medication which may affect required abilities to safely meet the needs of the show.
Animal Handling
Animals are most commonly found in circuses and county fairs, although they can also be found in activities such as pony rides in amusement parks. Animals are found in circuses in wild-animal training acts, for example, with lions and tigers, horse riding acts and other trained animal acts. Elephants are used as show performers, rides, exhibits and work animals. In country fairs, farm animals such as pigs, cattle and horses are exhibited in competitions. In some places, exotic animals are displayed in cages and in such acts as snake handling. Hazards include the unpredictable characteristics of animals combined with the potential for animal handlers to become overly confident and let their guard down. Serious injury and death are possible in this occupation. Elephant handling is considered one of the most dangerous professions. Some estimates indicate there are approximately 600 keepers in the United States and Canada. During the course of an average year there will be one elephant handler killed. Venomous snakes, if used in snake-handling acts, can also be very dangerous, with possible fatalities from snake bites.
Precautions include intense and ongoing animal-handling training. It must be instilled in employees to remain on their guard at all times. The use of protected contact systems is recommended where keepers work alongside animals capable of causing serious injury or death. Protected contact systems always separate the animal handler and the animal by means of bars or closed-off areas. When animals perform on stage to live audiences, noise and other stimuli conditioning must be a part of the required safety training. With venomous reptiles, proper anti-venom antidotes and protective equipment such as gloves, leg guards, snake pincers and carbon dioxide bottles should be available. Care and feeding of animals when they are not being exhibited also requires careful attention on the part of the animal caretakers to prevent injury.
Costume Characters
Costume characters acting the role of cartoon figures or historical period characters often wear heavy and bulky costumes. They can act on stages or mingle with the crowds. Hazards are back and neck injuries associated with wearing such costumes with uneven weight distribution (figure 1). Other exposures are fatigue, heat-related problems, crowd pushing and hitting. See also "Actors".
Figure 1. Worker wearing a heavy costume.
William Avery
Precautions include the following: Costumes should be correctly fitted to the individual. The weight load, especially above the shoulders, should be kept at a minimum. Costume characters should drink plenty of water during periods of warm weather. Interaction with the public should be of short duration because of the stress of such work. Character duties should be rotated, and non-costumed escorts should be with characters at all times to manage crowds.
Fireworks
Fireworks displays and pyrotechnics special effects can be a common activity (figure 2). Hazards can involve accidental discharge, non-planned explosions and fire.
Figure 2. Loading pyrotechnics for fireworks show.
William Avery
Precautions include the following: Only appropriately trained and licensed pyrotechnicians should detonate explosives. Storage, transportation and detonation procedures must be followed (figure 3). Applicable codes, laws and ordinances in the jurisdiction where operating must be adhered to. Pre-approved personal safety equipment and fire extinguishing equipment must be at the detonation site where there is immediate access.
Figure 3. Bunker storage for fireworks.
William Avery
Food Service
Food can be bought at circuses and amusement and theme parks from individuals with trays of food, at vendor carts, booths, or even restaurants. Hazards common to food service operations at these events involve serving large captive audiences during high periods of demand in a very short period of time. Falls, burns, cuts and repetitive motion trauma are not uncommon in this occupational classification. Carrying food around on trays can involve back injuries. The risks are increased during periods of high volume. A common example of injury occurring in high-volume food service areas is repetitive motion trauma that can result in tendinitis and carpal tunnel syndrome. One example of a job description where such injuries occur is an ice-cream scooper.
Precautions include the following: Increased staffing during high-volume periods is essential to the safety of the operation. Specific duties such as mopping, sweeping and cleaning should be addressed. Precautions for repetitive motion trauma: regarding the example given above, using softer ice cream can make scooping less strenuous, employees can be regularly rotated, scoops can be warmed to promote easier penetration of the ice cream and the use of ergonomically designed handles should be considered.
Scenery, Props and Exhibits
Stage shows, exhibits, booths, artificial scenery and buildings must be built. Hazards include many of the same hazards as found in construction, including electrocution, severe lacerations, and eye and other injuries associated with the use of power tools and equipment. The outdoor building and use of props, scenery and exhibits increases the potential hazards such as collapse if construction is inadequate. Handling of these components can result in falls and back and neck injuries (see also "Scenery shops" in this chapter).
Precautions include the following: The manufacturer's warnings, safety equipment recommendations and safe operating instructions for power tools and machinery must be followed. The weight of props and their sections should be minimized to reduce the possibility of lifting-associated injuries. Props, scenery and exhibits designed for outdoor use must be reviewed for wind load ratings and other outdoor exposures. Props designed for use with live loads should be appropriately rated and the built-in safety factor verified. Fire rating of the material should be considered based on the intended use, and any fire regulations that may be applicable must be followed.
Ride Operators and Maintenance Personnel
There are a wide variety of amusement park rides, including Ferris wheels, roller coasters, water flume rides, looping boats and aerial tramways. Ride operators and maintenance personnel work in areas and under conditions where there are increased risks of serious injury. The exposures include electrocution, being struck by equipment and caught in or between equipment and machinery. Besides the rides, ride and maintenance personnel must also operate and maintain the associated electrical power plants and transformers.
Precautions include an effective programme that can reduce the potential for serious injury in a lock out, tag out and block out procedure. This programme should include: personally assigned padlocks with single keys; written procedures for working on electrical circuitry, machinery, hydraulics, compressed air, water and other sources of possible energy release; and tests to ensure that the energy supply has been shut off. When more than one person is working on the same piece of equipment, each person should have and use his or her own lock.
Travelling Shows
Circuses and many amusement rides can travel from one location to another. This can be by truck for small operations, or by train for large circuses. Hazards include falls, severed body parts and possible death during erection, dismantling or transportation of equipment (figure 4). A particular problem is expedited work procedures, resulting in skipping time-consuming safety procedures, in an effort to meet play date deadlines.
Figure 4. Erecting an amusement park ride with a crane.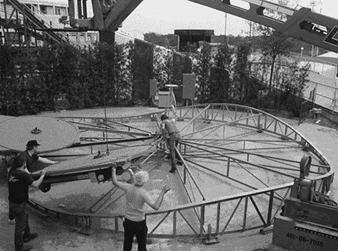 William Avery
Precautions include the following: Employees must be well trained, exercise caution and follow manufacturer's safety instructions for assembly, dismantling, loading, unloading and transportation of the equipment. When animals are used, such as an elephant to pull or push heavy equipment, additional safety precautions are required. Equipment such as cables, ropes, hoists, cranes and fork-lifts should be inspected before each use. Over-the-road drivers must follow highway transportation safety guidelines. Employees will require additional training in safety and emergency procedures for train operations where animals, personnel and equipment travel together.